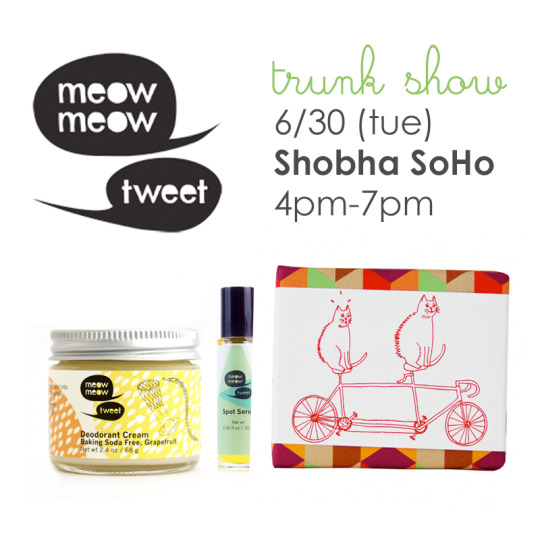 When we find new (to us) natural product lines that are effective & come in cute packaging we can't keep them to ourselves & have to shout it from the (blogosphere) rooftops. Meow Meow Tweet is the newest brand that we are in love with (& how fun is it to say?!). Meow Meow Tweet is a Brooklyn-based small-batch, vegan skin care line created with all natural & organic ingredients in super cute eco-friendly packaging.
Our top 3 favorite meow meow tweet products are:
Baking Soda Free Deodorant Cream: It's the answer to your prayers if you have a baking soda sensitivity. This tiny tub of magic deodorant cream will keep you stink-free naturally with it's light unisexy grapefruit scent & completely natural ingredients.
Spot Serum: A great natural alternative to combating zits of all shapes & sizes. The ingredients are of course all natural but they're also super gentle so they won't dry out your skin while treating problem spots. This magical spot serum has been known to banish pimples before they even surface.
Shampoo Bar: A bar of soap for your hair. So simple & so effective. These soaps are super clarifying & will keep summer hair grease at bay. Plus, they're super TSA friendly so you can get your travel on with clean tresses.
If you haven't tried them yet you can give them a test run next Tuesday (6/30) at Shobha SoHo from 4pm to 7pm at our Meow Meow Tweet Trunk Show!