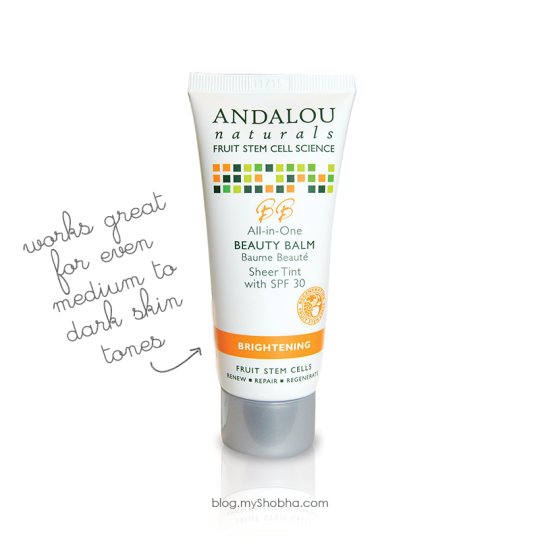 Aa, bb, cc, dd – no, this post is not a how-to on reading/composing music, it's one to let you in on our newfound fix for flawless, glowing skin!
Sure, the concept of a bb cream (I.E., an all-in-one beauty balm) has been around for several years now, but not until recently did we stumble upon a bb cream that works great for even medium to dark skin tones.  Previously our founder & CEO, Shobha herself, had tried a few only to have her complexion left looking chalky or grey, so much so that she had pretty much given up on the idea of this "all-in-one" for everyone.  After trying Andalou Naturals' Brightening BB Cream (sheer tint) she was so stoked that she literally got one for all of her cousins & naturally, we now carry it at Shobha SoHo!
Here's the skinny:  the Andalou bb cream works like a tinted moisturizer providing light coverage to even out your skin tone while also protecting the skin (spf 30), plus the fruit stem cells in the formula get you glowing & counterattack blemishes.  The bb cream is great to use alone or under makeup & of course it is free of gmos, parabens, sulfates & phthalates – oh, & it's gluten-free.
Visit Shobha SoHo to test it out yourself – it's safe to use right after threading & sugaring on the face!