While we all might be curious about the best plunger or probiotic tampon or cold-sore remedy, it can be difficult to discuss these more personal items. That's why we're tackling Things We Don't Talk About, a series in which we track down the best hygiene-, sex-, and bodily function–related things we all need but might be too embarrassed to ask about. Today, recommendations on the best manscaping tools for hair removal.
The term "manscaping" is almost but not quite self-explanatory. A portmanteau of "man" and "landscaping," it essentially refers to the grooming (or removal) of unwanted body hair on men — anywhere it may appear. And it's not so easy as just grabbing whatever razor you have in the bathroom. "Guys who shave their chest [with razors] — at least when they first begin — always complain about how awful it was," says Mike Gilman, founder of the Grooming Lounge Barbershop and Men's Spa, "or their skin broke out, or they cut themselves." But, Gilman assures us, it's easy to avoid these pitfalls with the right tools. We spoke to five experts to find everything you need, from body-hair groomers and wax supplies to nose-hair trimmers and tweezers.
Best chest/body trimmers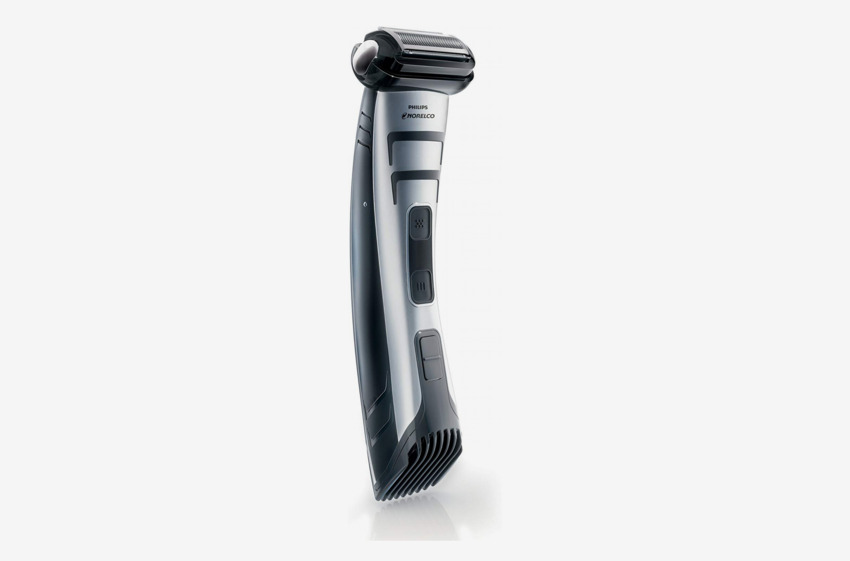 Philips Norelco Bodygroomer BG2040/49
The most essential manscaping tool is an electric trimmer. The double-ended Norelco Bodygroomer has a slightly awkward look, but it's all in the name of increasing functionality. There's a foil-covered pivoting head on one end (for close, smooth shaves down to the skin), and a trimmer with an adjustable guard on the other (so you can dial-in your desired length). "Both sides are really ergonomic," says groomer and hairstylist Ronnie Peterson. "The adjustable trimmer is better for sensitive areas like the crotch," and the other end can shave safely without a guard "so you can use that on the chest if you want to go really clean." It's water-resistant so you can use it in the shower or rinse in the sink for easy cleanup. And the adjustable trimmer means you don't have to worry about keeping track of a bunch of guards and attachments (the built-in trimmer has five settings, ranging from 1/8" to 11/25" in length). If you want the simplest all-in-one trimmer, this is it.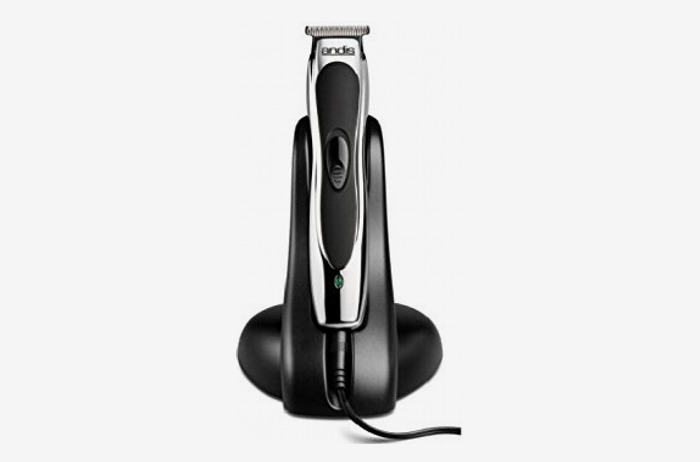 Andis Slim Line 2 Trimmer
Gilman's favorite trimmer is made by Andis, an old-school brand that's been in barbershops for decades. "Barbers use it to cut hair and do necklines," explains Andy. "It wasn't designed for trimming body hair," but it does a great job. "You slap a guard on it, and it just works." He's stocked a bunch of different trimmers in his shop over the years with varying degrees of success, but this one has always been a staple. The eight included comb attachments range from 1/16" to 3/4" in length. Note that even though they're removable, none of these trimmers should be used without their guard attachments, since the blades themselves aren't designed to make contact with skin.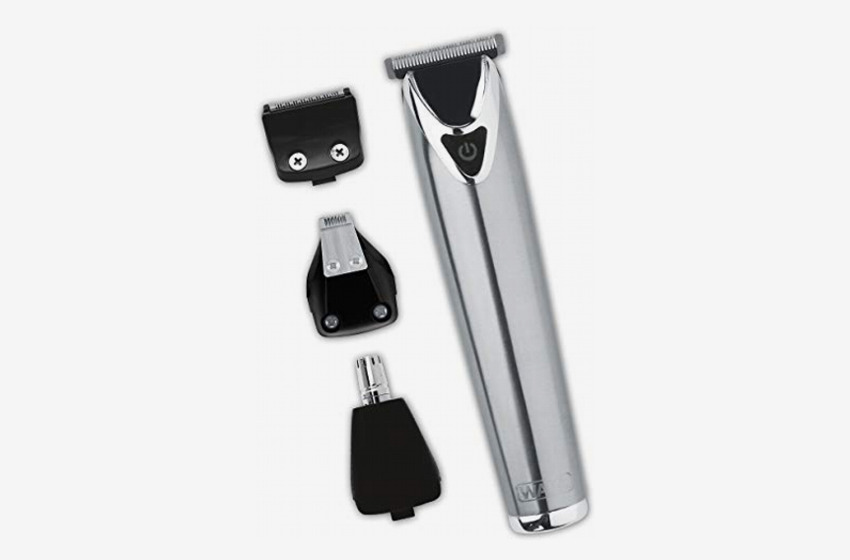 Wahl Stainless Steel Lithium Ion Trimmer
New York City hair-removal specialist Shobha offers full-body trims for men, and the Wahl Lithium Ion is the trimmer of choice in each of their seven locations. Founder and CEO Shobha Tummala says that "mens' hair tends to be coarser and denser, so you want to make sure you use a heavy-duty razor that isn't going to burn out after a few full-body trims." This is the only trimmer she trusts to hold up to such heavy use. ("We do a lot of these full body trims," she says). If you think your body-hair situation might be a bit more demanding, consider this commercial-grade trimmer. This one comes with a ton of attachments: 12 combs ranging from 1/16" to 1", and three additional shave heads that can be swapped in (including a rotary nose hair trimmer, a narrow "precision detailer", and an "outline shaver").
Best groin trimmers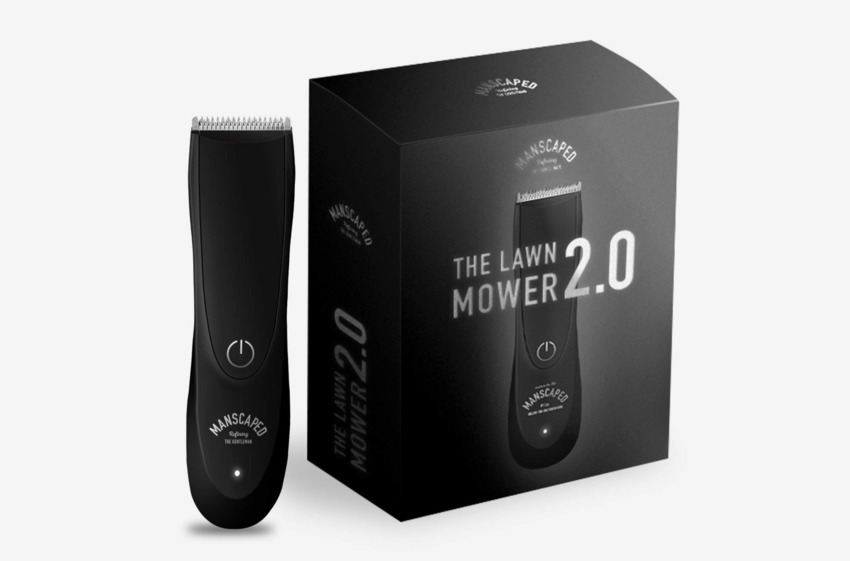 Manscaped Lawn Mower 2.0
Gilman also really likes this newer trimmer, which is "a little gentler, for the gentler parts of a guy's body." It's designed specifically for "below the belt grooming," he says, pointing out that since "the blades are so thin and close together, it doesn't grab or yank." And since it's so small, it's really easy to maneuver and "can get wherever you need it." It's also waterproof, so you can use it in the shower for easy cleanup. If you're a little skeptical about a company called "Manscaped," Gilman assured us he's heard nothing but really positive reviews from customers and staff. "For privates trimming, I'd get the Manscaped," he says. "We sell a ton of those." It comes with four length settings — conveniently consolidated into two double-sided guards — ranging from approximately 1/10" to 1/2".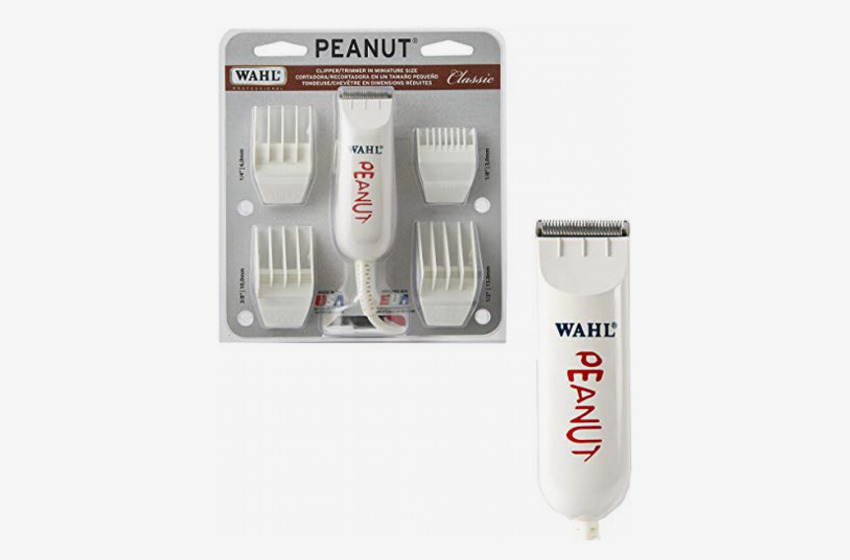 Wahl Peanut Classic Clipper/Trimmer (Corded)
The vintage-looking Wahl Peanut is the original palm-sized trimmer; the "Obi-Wan" to the Manscaped's "Luke." It definitely has a bit of a "fugly" thing going on, but groomer and hairstylist Linh Nguyen thinks that's part of its charm. He knows it may seem strange to buy a corded model when basically every electric trimmer is cordless and rechargeable, but he insists the corded model is more durable: "It lasts forever, I've had mine for ten years." He likes the small size of the Peanut, which lets you get into any "crevices" or hard-to-reach places. He also adds a very important tip: "When you're doing certain wrinkly areas, you have to stretch the skin out" so it's taut and smooth. This is where the guards can be helpful, too. Otherwise the skin can get caught in-between the little trimming teeth and that's how you end up cutting yourself in places you really don't want to cut. It comes with four comb attachments, ranging from 1/8" to 1/2".
Best nose hair trimmer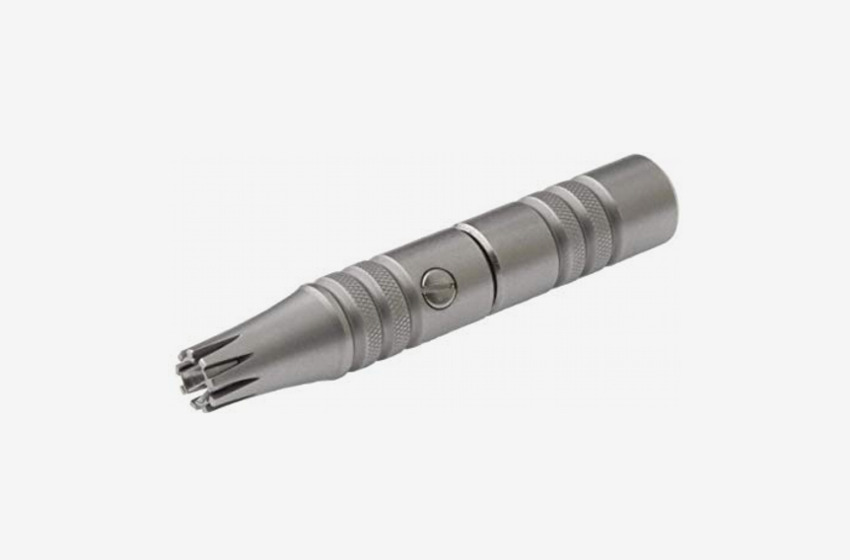 Groom Mate Stainless Steel Nose & Ear Hair Trimmer
While a good electric trimmer will take care of most grooming needs, there are still certain areas that require specific tools. Gilman has been searching for the perfect nose-hair trimmer for a long time — it's his white whale. "We've tried them all," he says. "The thing with the electric ones is they break and people hate them after a while." He discovered this Groom Mate manual trimmer a few years ago, and he's been selling them ever since. It's the first nose-hair trimmer he's carried "where people aren't coming back and complaining that it broke." Between the stainless-steel construction and lack of moving parts, it's way more durable than the electric options on the market, and the only maintenance required is an occasional water rinse. "It lasts forever," says Gilman.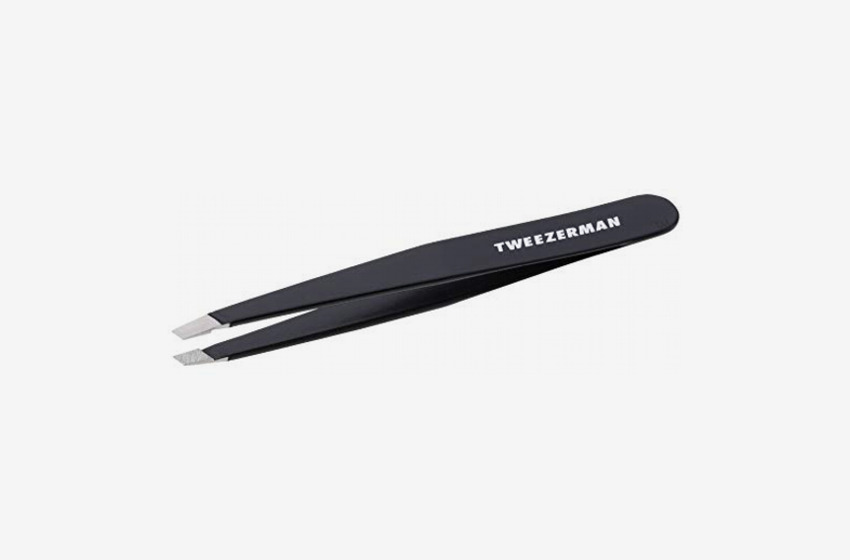 Tweezerman Stainless Steel Slant Tweezer (Black)
For tackling unibrows, or just the occasional stray hairs between eyebrows, a good set of tweezers comes in handy. "Slanted tweezers make it easier to grab the hair," and you can't go wrong with the Tweezerman. These have a "lifetime sharpening guarantee" which means if they get dull you can send them back to Tweezerman for a free sharpening. Seriously.
Best back shaver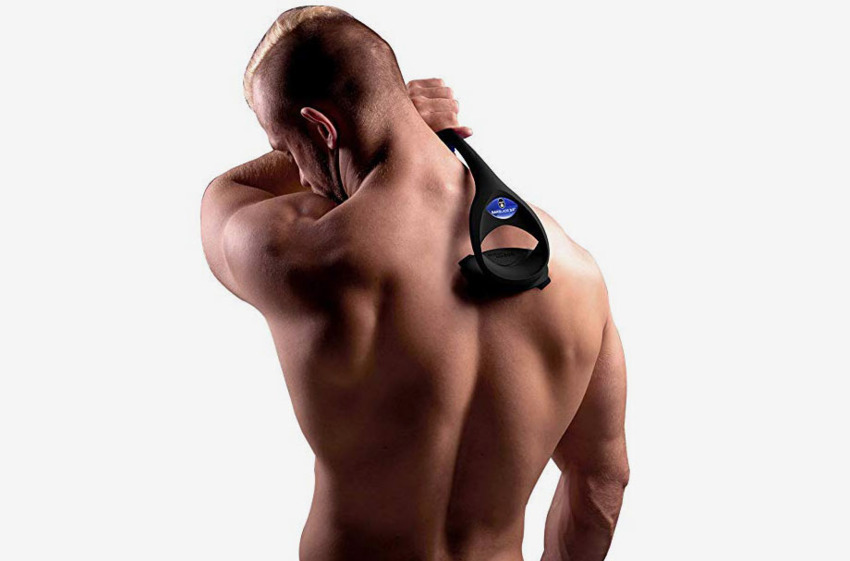 BAKblade 2.0 Back Shaver
This strange contraption, designed for shaving those impossible-to-reach back hairs has a goofy "As Seen on TV" quality, but Gilman's customers love it. "We get guys who said, 'I've been trying to shave my back for 30 years,' and ten minutes later he's done it with no cuts and can go to the beach without being embarrassed." Gilman describes the "blade" as something actually more like a comb, designed to ensure you don't cut your back. (You can buy the comically large replacement "blades" as you would with a cartridge razor). Gilman recommends using it in the shower so your skin and hair is soft. Just lather up your back with some soap. Afterwards you can do an awkward dance of trying to rub aftershave on your back.
Best neck hair trimmer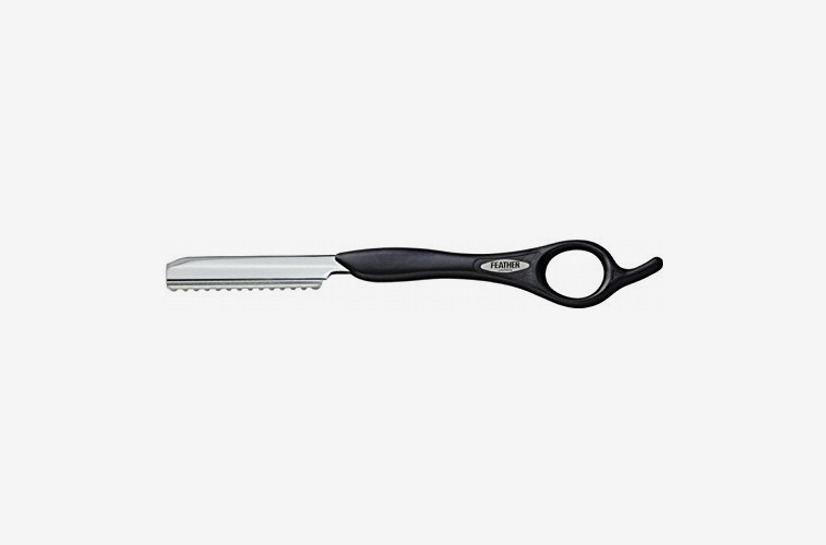 Feather Styling Razor, Black
Nguyen says that whenever he's preparing a client for a photo shoot, the back of the neck almost always needs touching up. Hair grows really fast in this area, and it's often the first thing to get messy between haircuts. Nguyen says the Feather razor is the perfect tool for cleaning up this often overlooked area. "Put your hand flat against nape of your neck and [make] a straight line [across] with your finger." Then just gradually edge the razor over everything beneath that line.
Best wax kits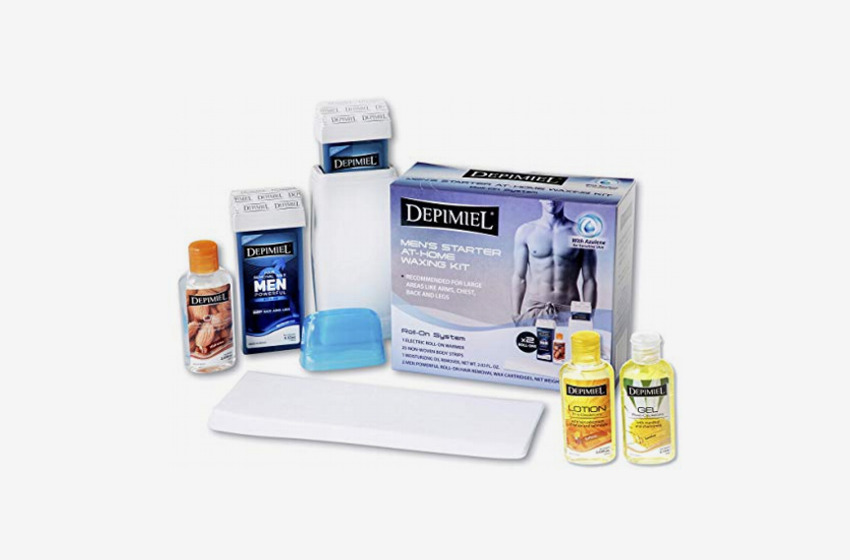 Depimiel Men's Hot Wax Kit
While electric trimmers are the simplest option, they aren't for everyone. If you prefer to be smooth and hairless, Peterson thinks waxing is the best option. He uses this kit. ("It looks complicated, but it's not," he says). It comes with a portable heater, wax cartridges, a roll-on applicator, and paper strips to pull off. You're going to need someone to help you though: "You can do the front [on your own] but you cannot do the back," says Peterson. He adds that it's important to stretch the skin a bit before applying the wax, and to test out a small amount first because it might be hot. A bit of wax residue will sometimes remain on the skin after waxing. Peterson uses Gigi Wax Off to make sure there's nothing left over and grapeseed oil to "smooth the skin and counteract irritation" afterward.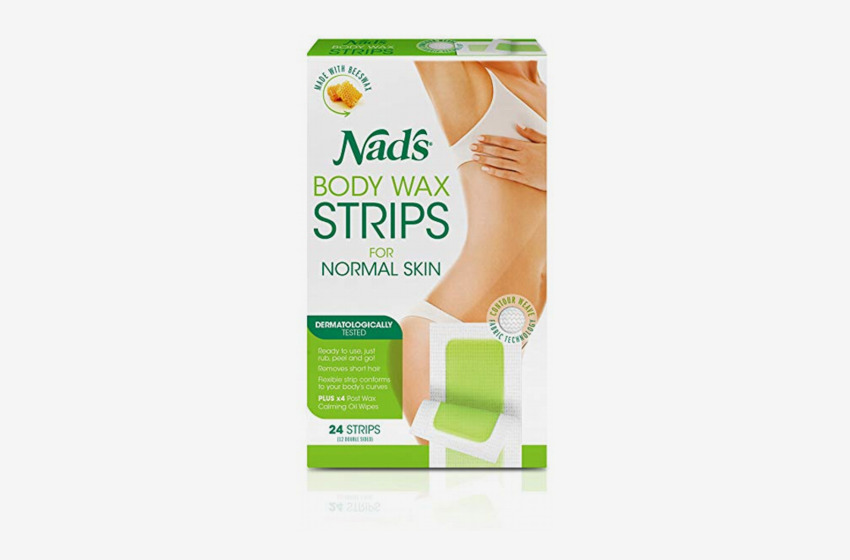 Nad's Cold Wax Strips, 24 Strips
Linh Nguyen is also a fan of waxing, but he prefers cold wax. "Hot wax can get all over. It's amazing, but most people [might] want to go have that done professionally." He likes this set because it's super-easy to use at home; no messy prep required, the box is full of premade wax-coated strips. "Don't worry about the packaging," Nguyen says. "Sometimes [these things] look like they're made for women and guys feel weird buying it, [but any 'men's version'] is literally just the same thing repackaged." He has one pro tip for anyone new to waxing: "Push all the hair in one direction, and press the wax strip going down towards the hair growth. Then, when you pull, hold the skin taut and pull against the direction of the hair growth … If you go with [the hair], the wax doesn't have as much traction, and it doesn't pull as strong at the roots." After waxing, Nguyen recommends using this gentle aftershave from Shea Moisture to prevent ingrown hairs.