Kimmie Smith, celeb fashion stylist, TV personality, accessory expert, has kicked off 2016 with a bang in her new role as the fashion & style director of her newest project, Athleisure Mag – talk about #lifegoals!
Kimmie Smith & Paul Farkas founded Althleisure Online Magazine to celebrate "The intersectionality between style, fitness mindfulness, leisure & destinations unknown."
This past December, we earned the bragging rights of working on set with Kimmie & her glam squad at Shobha FiDi to create the first issue ever of althleisure. (& yes it was as fun as it sounds.)
Kimmie is bubbly, humble & super easy to work with. She complimented my boots & how I pulled off the cuffed skinny pant leg "showing just the right amount of ankle- because not everyone goes for it." (aka: everything you want to hear from an accessory expert. #ftw)
Enough about me [flips hair], the first issue of Athleisure Mag is available now & is packed with the latest trends for fitness, outerwear, & (our fave part) beauty tips on how makeup artist Nydia Figueroa created an effortless all day beauty look using the Shobha® Brow Pencil. Plus, hair stylist, Dori Sligh illustrates how to rock a fierce combo of braids from the gym to your favorite brunch spot tying up tresses neatly with a Shobha® Hair Tie.
Peep our exclusive behind the scenes snap below & read the January issue here.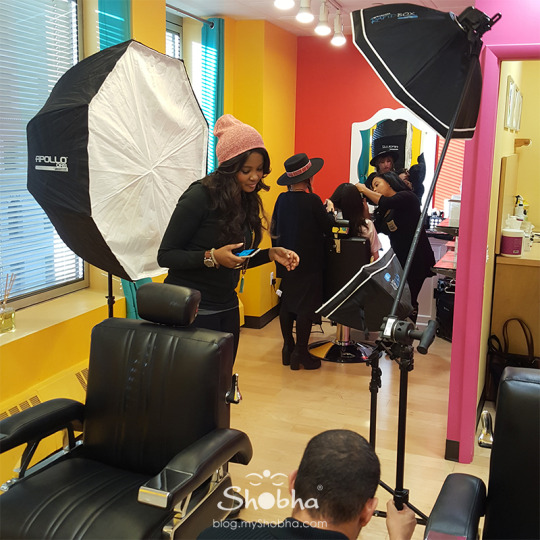 Kimmie Smith standing in for photographer George Chemas.
Hairstylist, Dori Sligh is working on look number 3 while I spy some Shobha® Rosewater Freshening Cloths on sale now! #justsaying
Hello brow perfection! Beautiful brows & flawless skin makeup look created by make-up artist Nydia Figueroa.
Kimmie & me!